From school archive: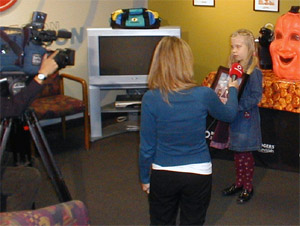 Our art school strongly supports our students participation in art exhibitions, shows and contests. Our students receive encouraging feedback and rewards for art work that they exhibit.
Featured contest: A HOWL-O-WEEN DRAWING CONTEST FOR KIDS AGES 5 – 12
As part of the annual Rogers Pumpkin Patrol program, Rogers TV invites kids to enter their Howl-O-Ween Drawing Contest!
The theme is to create an original spook-tacular drawing of the ghost, ghoul or goblin or sketch a scene of Halloween. This contest is judged on use of creativity
Alecia, 6 years old, had submitted her painting and won the main prize in the age category 5 – 6. She had the opportunity to be a guest on Rogers Television, had pizza together with other kids and took home a Rogers backpack full of goodies. It was a very happy day for Alecia.