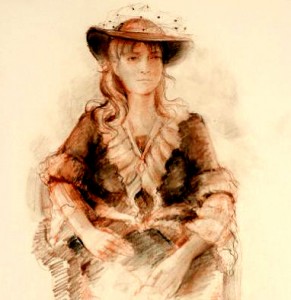 Lida Kashani has joined Art One Academy to conduct a series of life drawing workshops for teens and adults. Lida has wide experience teaching figurative and portraits drawing. In addition to her B.F.A. her particular interest in portraits led her to continue her education by studying two years figure drawing program in Beaux Art, France. She successfully teaches portfolio development students and help artists to develop their own unique style in different media like oil, acrylics, soft pastel, watercolor, mixed media, pencil and charcoal.
Drawing what you see is a skill that anyone can learn. It's an amazingly simple accomplishment. Once you advance in your drawing, you discover that it's not a tedious practice but pure joy. The first workshop that we have planned with Lida is a life portrait drawing from a model. Our workshops are carefully designed with numerous step by step instructions, demonstrations and other various visual aid.
Each demonstration is presented in logical steps which students can apply in their own drawings. Portrait will be executed using several media such as pencil and conte. Students will learn how to build counters and tones with lines, strokes and blending. We hope that everyone will enjoy the workshop.