Dear Parents and Students,
We are now ready to accept registration for Fall 2014 (Saturday, September 6th to Friday, January 30th)! We are offering you a 5% Early Bird Discount for the upcoming Fall term which is going to expire Friday, June 27th! You have a few weeks left to take advantage of this special offer as we will be holding classes in both locations. This year we had such an amazing time creating artwork with our talented young artists and we are very much looking forward to beginning the next term with each of you!
Choose your location
---
Also as a preview, following many parents requests we will be offering new program such Famous Artists Scrapbook. The fees and schedule will be announced shortly. Here is a brief description of our new program: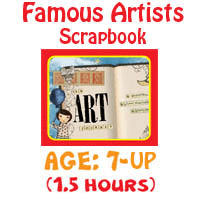 In this new program let your child's curiosity and creativity soar while working on a handmade biographical scrapbook about famous artists. Children aged 7 and up will explore life and creations of different artists. They will be eager to learn unusual, surprising facts or stories and retell it in a creative and colorful way on the pages of their own Art Journal. The scrapbook will include dates, interesting moments, pictures, titles and, of course, a child's artwork as a centerpiece.