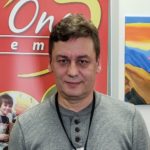 George was born in Ukraine. He took his B.A. from Kyiv College of Art and Industrial Design and his M.A. from Ukrainian Institute of Printing (Book Graphics).
He worked as a website/graphic designer, mural artist, keeping up on his traditional drawing and painting.
George allowed both sides of corporate design and personal art to feed each other. The sphere of his creativity is basically landscape, portrait, and abstract. This artist does not depend on traditional themes and technique. His credo – "What seems conventional to the eye, is palpable to the senses."
His searches for aesthetics of color combinations are connected with his own vital aesthetic views.
Finding a new way of doing something and finding a new room in his imagination is what he loves about the work. His older son Vadim Bazhanov under George's guidance and training was accepted and successfully graduated from Sheridan Institute's award-winning animation program at the top of his class. Vadim has worked in leading industry feature film studios including BlueSky Studios and DreamWorks Animation as a feature film storyboard artist. During the last 3 years, George has been teaching art for kids, young adults, and seniors, and continuing his artist career.