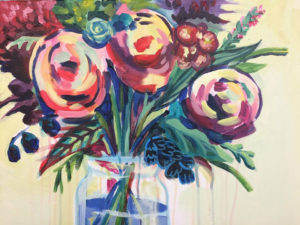 If you need more colour in your life, come to Art One Academy's workshop to create one-of-a-kind abstracted bouquets! This project is equally suitable for experienced artists who want to loosen their technique as well as total beginners who want to experience the joy of free-hand painting!
We will look at contemporary artist, Erin Gregory's work, select a palette that will work with your home decor and you'll take home a beautiful flower creation.
When: Friday, December 16, 2016
Location: RH North (Bayview & Elgin Mills)
Time: 5:30 pm – 9 pm
Cost: $65 +HST; (canvases and supplies are included)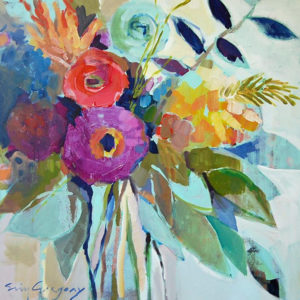 Minimum 6 students; maximum 12 students
Just as a reminder, we'll be happy to register and collect your fee (we accept cash or credit) over the phone or in person at one of our studios!
E-mail us at info@artoneacademy.com with your name and phone number and we will call you to register you.
RH NORTH 905.237.9278

RH SOUTH 905.762.9393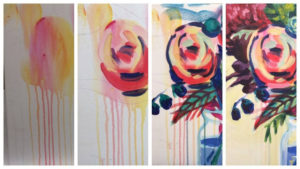 ---
Leonid Afremov Workshop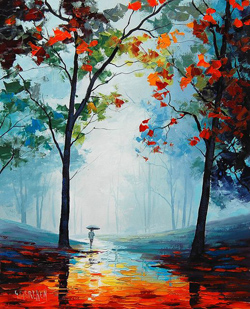 When: Oct.2 Sunday at 11am – 4pm
Where: Leslie location: 9011 Leslie St. Unit 305
Maximum number of people: 15
Description:
Leonid Afremov is a very inspiring artist. His technique is unique and very addictive and whoever tried it before would definitely agree with that statement. We are following step-by-step painting process guided by our professional artist while creating a selected theme image.
This workshop uses only a palette knife and high quality oil paints on 16" by 20" size canvas. This course is introductory and no previous experience is necessary
Price: $85 per person or $160 per couple
Time: 4-5 hours
Instructor: Daria Iaroslavtseva
To book your space call Daria at 416.602.3051 or email to her to iaroslavtseva.daria@gmail.com with subject line AFREMOV
---
Silk Painting Workshop Koi Fish
When: Oct.23 Sunday at 11am – 5pm
Where: Leslie location,
Maximum number of people: 8
This master class is designed for students who wish to learn everything about "cold" batik painting on silk material. We are using various techniques and effects by applying "resist", colour and salt. By the end of a 6-hour workshop, students will learn everything they need to know about "cold" batik and get a completed painting on silk. Size 25×25 inches.
Cost: $115 per student, supplies and silk are included.
Time: 6 hours.
If you wish to wear your item instead or making a painting, Daria will steam the dyes and return it back to you as soon as it's ready. Steaming process is $10 extra.
Instructor: Daria Iaroslavtseva
To book your space call Daria at 416.602.3051 or email to her to iaroslavtseva.daria@gmail.com with subject line SILK PAINTING