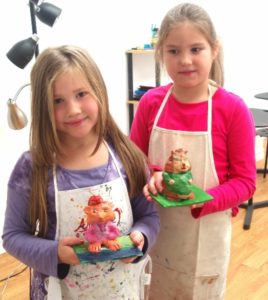 Sculpture/Pottery for Kids (Age 7-12) 
Sculpture/Pottery for Teens
Sculpture/Pottery for Adults
Kids aged 7 and up, teens and adults can explore the various ways of creating  functional and sculptural pottery objects. Working with clay is a very exiting journey of discovery with plenty of scope for self-expression.  A comprehensive course in Sculpture/Pottery making introduces students to a wide variety of different hand building,  wheel throwing and glazing  techniques.
Graded from very simple hand building projects and techniques to more complicated wheel-throwing and more advanced glazing skills and manipulations his course will guide you through each procedure with clear, step-by-step instructions.
The relaxed atmosphere of our professionally equipped studio encourages sharing of ideas and promotes creativity. This unique course is a lot of fun for students of all ages.  Space is limited to 6 students per classes.
Class Duration: 2 hours
Here we offer you to watch some related video on Pottery making. We hope it will give you an idea of  what a Pottery class look like. Try to remember all the tips and tricks demonstrated in this video.
SCHEDULE, FEES  AND REGISTRATION