Art Combo has been designed to combine the fundamentals of drawing, painting and sculpture into unique program that utilizes a broad range of materials.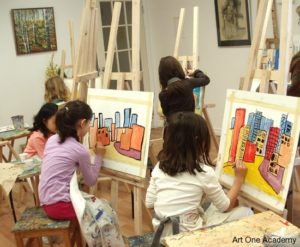 Art Combo assignments are based on The Ontario Curriculum for Arts. The goal is to prepare students to succeed in visual arts at school and beyond. Our students are equipped with adequate knowledge to enter different special art programs at secondary and high school levels if they choose to.  Therefore Art Combo program offers many ways to expand students' understanding of all aspects of visual arts.
Art history is introduced through hand-on projects that include assignments on Canadian history as well as art heritage of other cultures. Also students study various styles and techniques of many famous painters.
Art Combo 1    Age: 4-6 ( 1.5 hours)
Art Combo 1  is a unique opportunity to develop artistic and creative skills of the youngest students. The children get familiar with the basic principles of art, involve in the exciting process of creation and communication with the world of painting, drawing and sculpture. Furthermore, the atmosphere of the art studio and the manner of teaching is friendly and entertaining – the kids will not be bored or tired, because they learn difficult concepts of art through the joyful process of game. Above all, the program prepares children for their future study at school and develops their work habits and skills of social communication and concentration on work. The parents can be sure that their child's natural desire to create will be fulfilled.
Art Combo 2  Age: 7-9 ( 1.5 h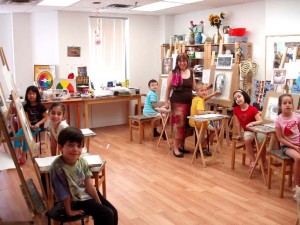 ours)
Art Combo 2  enables students to improve their acquired skills, explore and enjoy the beauty of artistic world. In this program, students learn various art techniques, study the history of art, engage in different artistic activities and find their own creative style to express their unique personalities. The principal goal of the program is to maintain and develop the child's interest in art. The art education is especially helpful while kids study at school, where the skills of drawing and painting are used during the art assignments and presentations – in this way the artistic skills can influence positively the marks and progress of your child.
Art Combo 3  Age: 10-12 (2 hours)
Art Comb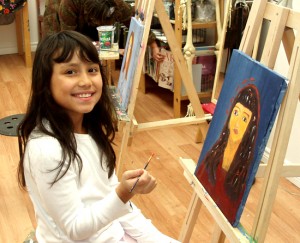 o 3  is a new level in the artistic development – it is a chance to reveal and evolve the creative potential of your child. Here the classes are divided into groups of 8 instead of 6, the duration of lesson is 2 hours instead of 1.5.. The greater emphasis is made on the academic skills of a young artist. Students expand their knowledge, make a deeper insight into the history of art and improve their skills in various techniques of drawing, painting and sculpture. They develop a mature and developed style. In the art they seek the way to express their feelings and impressions. Moreover, their art skills can be also very useful at school, where they frequently encounter different art assignments, media presentations and group projects.
Class Duration: 1.5 hour or 2 hours
 
.