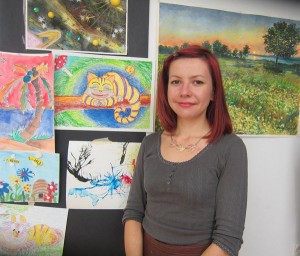 Tanya Chilova has been teaching painting to kids and adults for nearly eight years. Having studied different approaches and media under several art instructors through her childhood and youth, she completed a Bachelor in Visual Studies (2011) and a Bachelor in Education (2013) from University of Toronto. Since finishing school, she has co-ordinated Papergirl Toronto, a Nuit Blanche project (2012), and exhibited in group and solo shows, most recently at Gallery 402 in Toronto.
Having taught a wide variety of styles and media, Tanya paints in watercolours, oils, and acrylics. Her subject matter looks at the urban environment as a place of surprising beauty. Tanya's paintings detail the layers of history in old buildings and back alleys, the unsung beauty of which might be disappearing as new development comes in.
Tanya has been drawn to children's natural love for creativity since the first class she led; she cherishes the opportunity to channel her learners' talent and energy into an outlet that provides so much room for growth and exploration. Having herself benefitted from an arts-based education, Tanya enjoys watching her students mature into confident, competent artists.
Sneak Peek into Tanya's Classroom!
Art Combo 2 and 3
Art Combo Teens and Portfolio