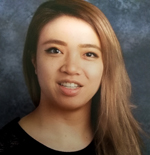 Selina graduated from York University with an Honours Bachelor of Fine Arts – Piano Performance (BFA) and later pursued a Bachelors of Education from the University of Toronto (OISE). She is now an elementary school teacher and has been actively teaching Kindergarten to Grade 8 for the past two years.
In Selina's classroom, you can expect that your child will enjoy every moment. She encourages her students to provide input, background knowledge, and ideas of how to elevate the artwork presented. Communication is of the utmost importance because students are immersed in a conversation about art and there is an important learning aspect to that. Selina strongly believes that with each lesson, students will find ways in which they can work on and grow as individuals and artists.
Selina's devotion to the arts started from an early age and was first sparked by animation in comics, television, and films. Always finding spare time to sketch or take art lessons as a young child, she was able to explore the various mediums of art. Music was also an important aspect of her life, and still to this day Selina is actively playing the piano.