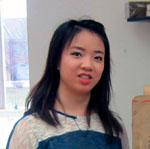 I have enjoyed creating art since I was a child. Art for me is an outlet where I can express how I am feeling through the use of different mediums of art. When I was a child, I took extracurricular art lessons to learn how to sketch cartoons to still life objects. I went to York University from 2009 to 2014 and received my Bachelor of Fine Arts Spec. Honours in Piano Performance where I spent the four years focusing on classical music. I then went on to pursue a Bachelor of Education at the University of Toronto. My areas for teaching are from Kindergarten to Grade 6.
I enjoy animation and spend a quality of my time drawing and sketching cartoons such as Canadian/American and Japanese anime. My interests blossomed from watching anime shows such as; Sailor Moon, Pokemon, and etc.  Other forms of art that I enjoy doing is painting scenery with acrylics.
I feel that every child is an artist and that with motivation, the student is capable of creating a masterpiece.