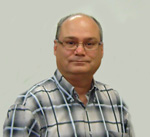 Lloyd Pierce is a visual artist engaged in digital media, drawing, painting, sculpture, woodworking, and model building.
Lloyd was born, raised, and educated in India. After earning a Bachelor of Fine Arts from Delhi University, he worked in several of India's major urban centers as a graphic designer. Since moving to Toronto in 1990, Lloyd has continued his work in the graphic arts industry while working privately on a diverse range of projects in many media.
Lloyd's commissioned work can be found in private collections in Canada, the United States, the United Kingdom, Europe, India, and Australia. Like his works, Lloyd has travelled the globe; his love of art has moved him to study the great masters in the world's major galleries. His paintings portray his love of the outdoors, focusing on the boundaries between land and sea. He explores the integration of the human and natural worlds, where the equipment of rustic life becomes an aspect of the environment it inhabits.
In 2010, Lloyd began formally sharing his many years of experience with the next generation, making teaching his primary focus. His expertise in many media, combined with his infectious passion for art, allows him to appeal to a wide range of students. He has taught individuals ranging from kindergarten to graduate school, as well as adult learners, from all cultural backgrounds across the GTA.
Lloyd's teaching objective is straightforward: he wants to give his students the chance to experience the same love of art that has shaped his own life. For Lloyd, teaching art is never dull. Seeing a student express his or her unique creativity is always a fresh, rewarding, satisfying moment.