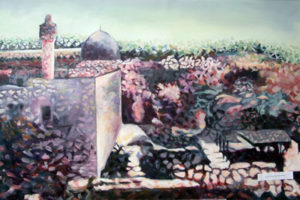 As thoughts, memories, knowledge, and landscape are fragmented so is the history of Jerusalem. Canaanite, Hellenistic, Roman, Arab, Crusades, Mamluks, and Ottomans are the various ethnic groups and periods the land of Israel has experienced. This is due to the significance of religion and peoples values in the past. Multiplicity of invasions and cultures that would reside there, would contribute to its complexity, and what it remains as today-ruins. It has mainly been reflected on religious sites in Jerusalem, whether they were creating or destroying, they were contributing to its layers of historical debris.
Although not everyone understands art or its history, most people can relate to other human beings on levels of suffering, war, loneliness and displacement. Standing amongst its stones, Jerusalem reflects this connection to me. Reality is abstract, my memories, although fragmented are real; and my paintings represent my version of reality.
Why Jerusalem? My reasons are both personal and global. I perceive myself as a nomad taking on several faces. It is something you become when you move and immigrate frequently. It is a feeling of having no religion, or no father; it is a subject of fitting in, and belonging. Being a city made of stone, and ruins, Jerusalem shares a lot of these qualities and many more. Moving a lot has made me love and connect to the landscape in its variety. I am able to listen to it speak to me. When there is no one, it always is there.
I like to introduce myself to my canvases as a tourist, and let them take me where they will. I use painting as a means of getting in touch with myself, and what is aesthetically pleasing to me. A lot of my interest lays in complexity of color that can be established with basic primaries. How one color relates and enhances another is like the coexistence of cultures I experience resulting in something quite beautiful.
For more information and to see artworks in the same theme visit Alex Reznik page
Alex teaches Art Combo program to children age 5 to 12. This is a program that combines the fundamentals of drawing and painting using broad range of materials. The lesson is divided into several parts to keep students focused and fully involved in class activities.