Thank you for purchasing a Groupon. We are looking forward to see you at our studio.


Art Combo 1 (Age:4-6) or Art Combo 2 (Age7-9), Duration: 1.5 hrs
Art Combo 3 (Age: 10-12) or Art Combo Teens, Duration: 2 hrs
Character Design for Comics and Animation, (Age: 7-12)
Comic Book Storytelling (Age: 7-12), Duration:1.5hrs
Digital Art (Age: 9-16), Duration: 2Hrs

Art Combo has been designed to combine the fundamentals of drawing, painting and sculpture into unique program that utilizes a broad range of materials.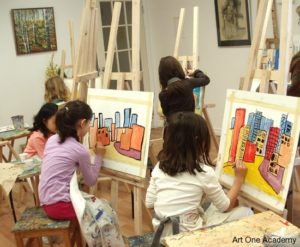 Art Combo assignments are based on The Ontario Curriculum for Arts. The goal is to prepare students to succeed in visual arts at school and beyond. Our students are equipped with adequate knowledge to enter different special art programs at secondary and high school levels if they choose to.  Therefore Art Combo program offers many ways to expand students' understanding of all aspects of visual arts.
Art history is introduced through hand-on projects that include assignments on Canadian history as well as art heritage of other cultures. Also students study various styles and techniques of many famous painters.
Art Combo 1    Age: 4-6 ( 1.5 hours) 
Art Combo 1  is a unique opportunity to develop artistic and creative skills of the youngest students. The children get familiar with the basic principles of art, involve in the exciting process of creation and communication with the world of painting, drawing and sculpture. Furthermore, the atmosphere of the art studio and the manner of teaching is friendly and entertaining – the kids will not be bored or tired, because they learn difficult concepts of art through the joyful process of game. Above all, the program prepares children for their future study at school and develops their work habits and skills of social communication and concentration on work. The parents can be sure that their child's natural desire to create will be fulfilled.

Art Combo 2  Age: 7-9 ( 1.5 h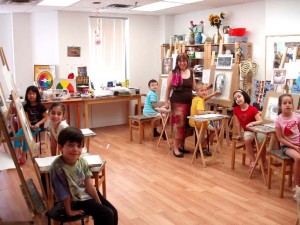 ours) 
Art Combo 2  enables students to improve their acquired skills, explore and enjoy the beauty of artistic world. In this program, students learn various art techniques, study the history of art, engage in different artistic activities and find their own creative style to express their unique personalities. The principal goal of the program is to maintain and develop the child's interest in art. The art education is especially helpful while kids study at school, where the skills of drawing and painting are used during the art assignments and presentations – in this way the artistic skills can influence positively the marks and progress of your child.

Art Combo 3  Age: 10-12 (2 hours) 
Art Comb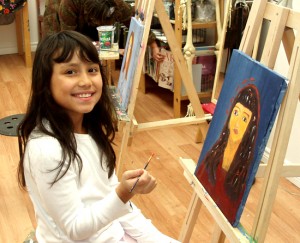 o 3  is a new level in the artistic development – it is a chance to reveal and evolve the creative potential of your child. Here the classes are divided into groups of 8 instead of 6, the duration of lesson is 2 hours instead of 1.5.. The greater emphasis is made on the academic skills of a young artist.
Students expand their knowledge, make a deeper insight into the history of art and improve their skills in various techniques of drawing, painting and sculpture. They develop a mature and developed style. In the art they seek the way to express their feelings and impressions. Moreover, their art skills can be also very useful at school, where they frequently encounter different art assignments, media presentations and group projects.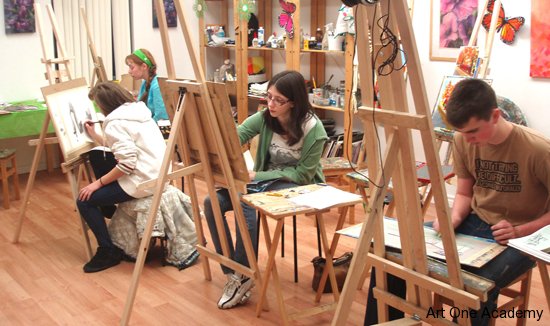 Art Combo Teens  Age: 13 and up (2 hours)
In this unique program students create increasingly complex art works mobilizing all their imagination and art skills; at the same time integrating the fundamental of design known as elements (colour, form, line, shape, space, texture, and value). Students develop their understanding of how art works reflect and affect the history, values, and beliefs of various societies and cultures.
Students are encouraged to present their personal ideas and thinking out of the box (projects on surrealism and abstraction).

Character Design for Comics and Animation
Ages 7 -12
Discover an entire universe of characters and stories that's waiting for you inside your imagination! In this drawing program, students will learn the structure of figure drawing as they create their own diverse range of characters, outfit them with costumes, equip them with props, and develop a world for them to live in.
Students will learn how their favourite comic books and cartoons are brought to life as they visualize their own characters using the same techniques as the professionals.
Duration: 1.5 hour

Comic Book Storytelling
Ages 7 – 12
Experience how a comic book comes together in this one-of-a-kind sequential art program. Here, students will take their drawing skills and creativity to the next step as they explore light and shadow using ink, establish backgrounds and camera angles, work with scripts, and finally make their artwork come to life in fully rendered comic pages utilizing advanced visual storytelling techniques. The projects in this course are just like what professional comic book artists work on.
(Must have completed Character Design for Comics and Animation)
Duration: 1.5 hour


Digital Art 
From comic books, video games to Hollywood movies, most commercial art these days involves using a computer at some point in the process, making computer skills crucial for many artists.
In this exciting program, students will draw, color, paint, and create right into a computer using our provided digital pen tablets. A program unlike any other, this course serves as a great introduction into the world of digital art and they will have many digital pieces to showcase. These include digital landscapes, character illustrations, photo restorations and manipulations.
Duration: 2 hours


Other Services
March Break Camp