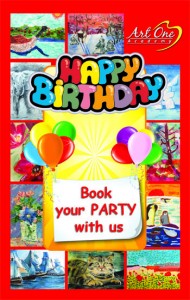 When children have moved beyond finger painting it's perfect time for a creative birthday party that truly be a work of art. Host your next birthday party at one of our bright and spacious art studios.
2 hrs. supervised activities: 1¼ Art Project and 45 min. for celebration and food
Birthday child is the center of all activities
Project is selected around child's favorite theme or topic
Framed artwork for birthday child
Complimentary coffee or tea for adults
Thank you cards with complimentary lesson for all kids at the birthday party
Invitation Cards
Cost: $230+HST for up to 10 children. Any additional child is $10 to a maximum of 15 children including the birthday child
Material upgrade (optional):
Project is done on canvas board: add $2.50 per child
Project is done on stretched canvas: add $3 per child
Choose your project and lets have fun! We have tons of projects to choose from. If you don't see something you like – share your idea and let us help you to create that.
Book Now – Call (905) 237-9278
Send your inquiry and we will be happy to help you with organizing your special Birthday party!
Book Now – Call (905) 237-9278