Grades 7 &8 students at Reesor Park P.S. had enjoyed their "Arts Themed Day". From 9 in the morning till 3 pm the whole class has been creating a series of Comics. We were very pleased with the results even though students had no prior experience. We want to thank Dylan for creating this great workshop!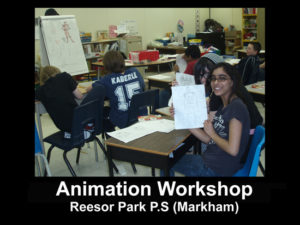 Topic: Drawing for Comics and Animation
What you learn: Discover an entire universe of characters and stories waiting inside the imagination! In this amazing art class, students of any skill level will gain an understanding of professional drawing techniques in a simple, easy to understand way as they create and design their own range of awesome characters.
This exciting program is especially for anyone who loves comic books, cartoons, super heroes, anime, or video games.
No prior experience necessary!
Materials: Pencils, white erasers, plain white paper, large chart
paper for demonstrations, masking tape.