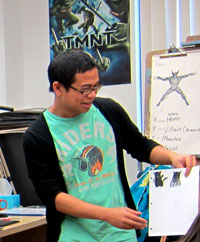 With Christmas fast approaching our newest instructor John has been hard at work getting the kids ready for their big final assignments in the New Year.
He's amazed at all the progress the kids have been making as well as their keen love for the arts. For those of you who don't know John hails from a background in the video games industry. Although he teaches now at Art One, John is still quite active in the Video Games industry as he still works freelance on top of his Art One duties.
For several years now John has worked as a BG Painter, User Interface Artist, 2D Generalist and Designer in both the Animation Industry and in the Games Industry.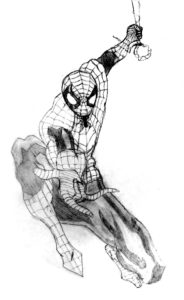 In terms of his Character Design class he has been focusing on bringing back the basics and all the hidden techniques that most artists forget or skip over before they even lay down their main idea. He's teaching kids about silhouettes, drawing using basic shapes, and even symbolism and then getting the kids to get crazy with their original designs.
For Comic Book Storytelling the focus has been on getting the kids to really focus and understand the idea of telling stories within a finite amount of panels. Making each panel as meaningful as possible and only including ones that are necessary. Also we are now practicing our inking skills so once the final comics have been drawn out we can begin polishing and creating are very own original comics!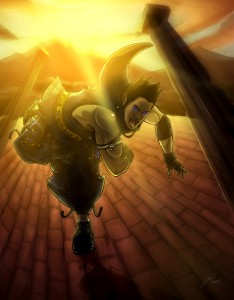 Finally for Computer Illustration we are bringing back and introducing a more traditional approach to painting in Photoshop. Focusing on painting from darkness and bring out the lights in tones. As well as trying to balance that with technical tool usage and knowledge in Photoshop. The students have also enjoyed fun photo manipulation and restoration classes where they develop skills and try subject matter that they may not have known they enjoyed until now.